"As I remember, during the whole war, mother visited me only once, and stayed exactly one day. I bagged her not to leave and stay with me, but you know what she said? 'Sorry, darling, I have to go back.' "
This is how Zaira Qeburia's daughter, Irina Qardava, recalls the last time she saw her mother. It is 26 years later, and for the first time Irina tells the story of her mother. The story, delicately kept in the heart of a daughter, combines inexhaustible pain, longing and pride.
Zaira Qeburia was a 35-year-old emergency nurse when war broke out in Abkhazia. While Irina and her brother Irakli stayed with their tirelessly caring grandmother, Zaira was on the battlefields, tending to wounded Georgian soldiers. She never thought of leaving her soldiers so she and her family could escape the conflict zone.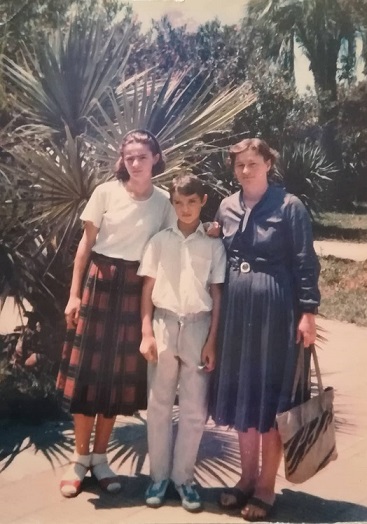 Irina was 14 years old. She clearly remembers how the war started. But her most vivid memories are of the final attack on her native village of Little Kaman on September 16, 1993.
"All of a sudden, the attack on the village civilians started. "Shooting and screaming suddenly broke the silence. I remember standing and watching everyone run away, and still not knowing what to do, where to go. Finally, I joined a group of 25 who escaped in the direction of the forest. I later found out, my grandmother and brother joined another group, but at the time I knew nothing about them. My parents were somewhere in the forest, too."
The villagers decided to split up and the men moved to another hiding place.
On September 24, the enemy found where the women were hiding. According to eyewitnesses, they had information that Zaira Qeburia was giving medical assistance to Georgian soldiers, and they separated her from the group. They shouted and swore at her. Then one of the gunmen approached her from behind and hit her with his gun butt directly in the head. Another gunmen did the same. Soon a whole group was mercilessly beating her. She was trying to stand in silence.
"Mom was falling, but kept standing up again, because she would never kneel in front of them. They tried to force her to lead them to the hiding place of men, but she remained silent. In order to frighten her, they started to shoot around her feet. But she never moved and was looking bravely directly into their eyes.
"She probably already knew her fate. First they shot her in the feet, and then they shot everywhere in her whole tortured body. My aunt, who was there, told me that until her last breath, my mother repeated my name."
On hearing the cries of the women, men ran out of their hiding place and headed towards them. One of them was Zaira's husband, Guriel Qardava.
The smell of gunpowder filled the air. The Abkhazian fighters were laughing loudly. Women were desperate and weeping. Zaira's body was lying in a pool of blood.
Stunned by what he saw, Guriel had no other choice but to beg the enemy to let him bury his wife. The fighters threatened to kill him, too, but the whole village surrounded him and begged the fighters not to deprive his children of their father.
They gave him 15 minutes to bury her. He was digging with his bare hands. The women were trying to clean her body. One of them noticed her tightly clenched fist and tried to open it. Zaira held an iron cross.
"She might have praying in her last minutes. I think about it over and over. I didn't recognize that cross, and have no idea how it appeared in her hand. But when my aunt gave it to me, I could feel all my mother's warmth and pain inside of me."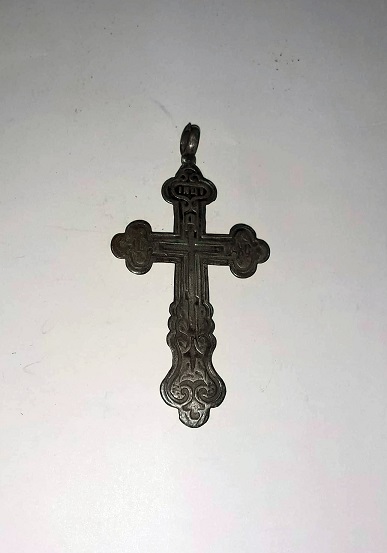 Irinas's father, along with other men from his village, spent the next 45 days in captivity in nearby Gudauta. Eventually he managed to leave what was now occupied Abkhazia.
Irina's grandmother and brother, after surviving and witnessing a number of violent and merciless acts, made it across the Enguri River safely. But these traumas have affected Irakli permanently.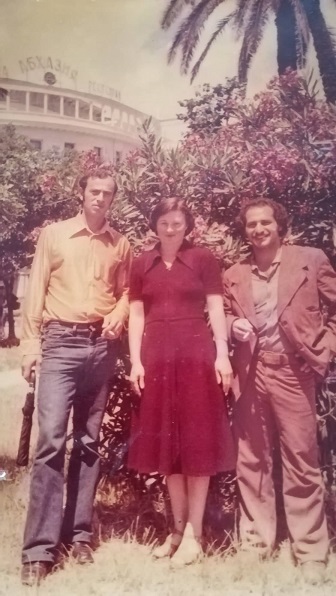 Irina left the conflict zone with the help of a Greek neighbor. That same neighbor later helped Zaira's parents find her hastily-dug grave. They took the body of their daughter to her native village Zemo Pshapi in Gulripsh district.
Irina's grandmother and father have passed away. Irina teaches school near Zugdidi, just a few kilometers from the Enguri River that separates Georgia and Abkhazia.
On September 24, 1993, the tragedy that happened in the forest near Little Kaman village took the life of a woman whose heroism saved the lives of many other villagers.
"Mother was blonde, with light green eyes, and a beautiful smile. She was of average height. I still remember the taste of her delicious dishes. I never saw her worried about anything. She was always standing upright and was teaching me to do the same.
"I don't know, maybe she had a kind of premonition. But she was always telling me how to live properly. She was very religious and we were brought up this way. I cannot remember her saying bad things about other people.
"She was a very kind person."
In addition to the iron cross, the symbol of her mother's torture and execution, her daughter has two more treasures -- a black silk dress and a pair of shoes she says her mother wore often in her final days.