by Kristine Khanoyan
Today many girls are not born in Armenia because of their gender. According to data published in the statistical yearbook of the National Institute of Health, "Health and Public Health 2019", 10,228 abortions were registered in 2018, which rose to 10,647 in 2019, an increase of 419. If the discriminatory practice of sex- selective abortion continues, it will result in thousands of missing girls, and by 2060 up to 93,000 girls will not be born according to the 2016 UN Population Fund Public Sexual and Reproductive Health Sales Survey report.
Twenty-year-old Gayane Manukyan said, "When I was born, relatives left my mother alone in the hospital because I was the fourth girl in the family. Until the last moment, the doctor assured my parents that they would have a son. My father left the hospital very upset, returned home and locked himself in his room for a long time. He didn't want to talk to anyone, he didn't want to see anyone's face. My mother argued with the doctor, saying her child must have been changed with another baby, and that she should have had a son." Now she tells the story of her birth with a smile, but said it took her many years to overcome her childhood complexes. She has a younger brother and says her parents share their love with both of them.
Satenik Sargsyan, 49, from Gavar, recalls an unpleasant conversation with her mother-in-law when she gave birth to a baby girl: "I got married quite late, and when my daughter was born I was 38. Before the birth, my mother-in-law said that I would have a son, and when I jokingly asked, 'what if a girl is born?' she said, directly: 'You must have an abortion until you deliver a boy'." Many other cases of women who abort a baby girl because of stigma and pressure from family members are not being investigated. They are often guided by the saying that "The family flame should keep burning (it means that when families have sons their families continue their existence) ".
At the same time, the rate of sex-selective abortions in Armenia is high, and increasing.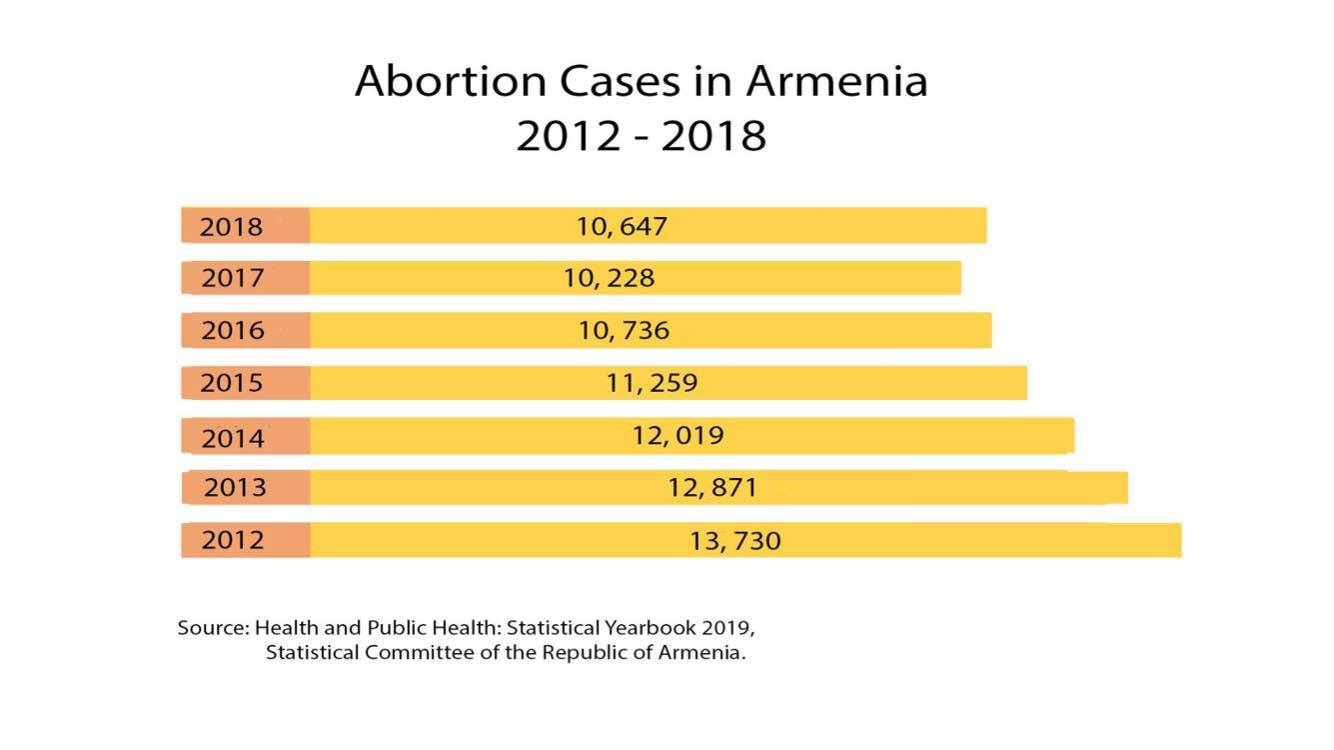 A 2018 study showed that 9,207 abortions were registered up to 12 weeks of gestation, and 1,197 at 12-22 weeks. Most were gender-selective abortions, and according to the statistical yearbook of the National Institute of Health sex-selective abortions are common throughout the country. Most abortions are still registered in Yerevan because of the higher population, followed by Ararat and Lori regions. Syunik, Tavush and Lori regions register the most cases per 1000 inhabitants, largely related to their difficult socio-economic situations.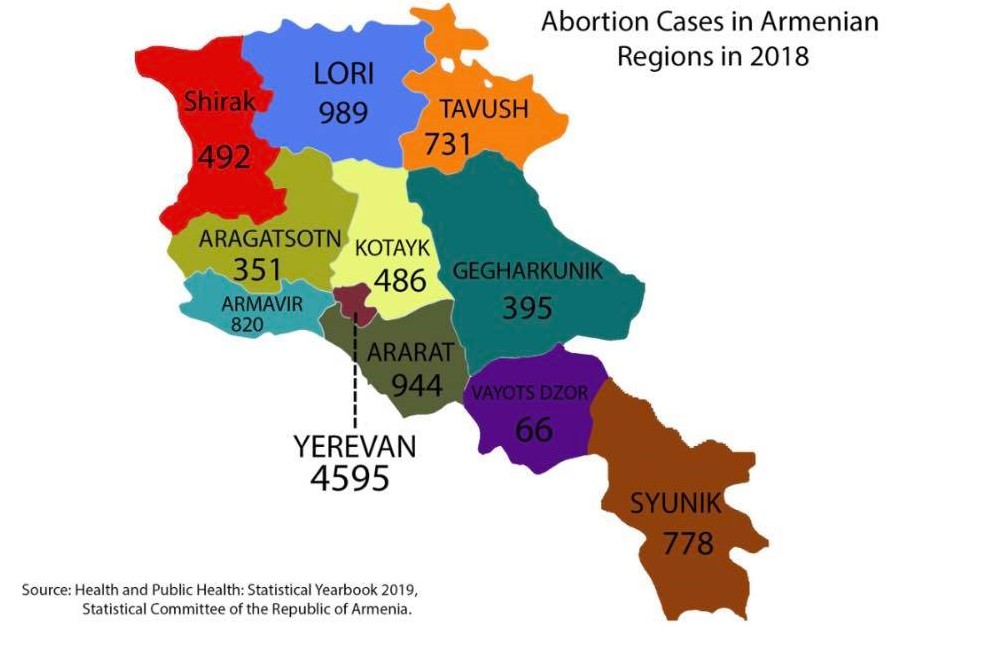 According to a study conducted by UNICEF, three main factors jointly exacerbate gender inequality, resulting in gender-selective abortion rates.: Declining birth rates, the development of ultrasound technology, and the deeply ingrained norms of boyhood. One solution that is widely discussed in Armenia is to ban abortion on the basis of sex: According to the current law, every woman has the right to abortion before 12 weeks' gestation period is over, and doctors are legally required to provide the service, but from 12-22 weeks, when the sex of the foetus is known, abortion must be prescribed by a doctor. However, according to Dr. Ter-Minasyan, many women take medications to end unwanted pregnancies, with products such as Cytotec, Miropristone or Mirolut.
Mariam Hakobyan, a pharmaceutical employee, said it is illegal for pharmacies to sell abortion pills without a doctor's prescription, yet "in the last three months, still 10-15 clients bought abortion pills. The number of cases has decreased compared to the previous month, and recently, one client said her doctor had illegally sold her a pill for 20,000 AMD (almost $40). If there are many such cases, we cannot provide accurate statistics." She warned that medications should not be taken at home, as they can lead to very severe bleeding that might result in infertility or worse.
According to Dr. Ter-Minasyan, in case of a ban on abortion, illegal activities would intensify, with severe consequences. He emphasized the importance of transforming social norms for men and women. "Armenia needs the potential of all children to guarantee the country's development. Every child, whether a girl or a boy, is extremely important," Ter-Minasyan says.