By Mancho Gigani
Nini, a girl of 14, committed suicide on February 9, 2021 in a village of the west Georgian Kobuleti Municipality. Her grandfather found her body near his house.
The Ministry of Internal Affairs opened an investigation for "incitement to suicide" under Article 115 of the Georgian Criminal Code. The day after her death, law enforcement agents detained a 23-year-old man for engaging in sex with a child under 16, according to Article 140, a crime punishable by imprisonment for up to nine years. According to public media interviews of the grandfather and other relatives of the family, he had sexually assaulted the 14-year-old girl twice—the previous summer and in early December, 2020, when the girl informed the family about the violent attacks. The grandfather said the family reported the sexual assault to the police in early December; the child was questioned by the police and underwent a medical examination. However, according to the grandfather, results were delayed and the 14-year-old committed suicide before any the case was settled.
Nini's tragedy represents another systemic failure to deal with such cases. According to Public Defender Nino Lomjaria, one-third of all investigations launched into sexual violence against minors registered in 2018-2019 were dropped by the authorities. She blames delayed investigations and recurring failures to properly reach out to victims. According to 2020 statistics published on https://info.police.ge/, out of 2458 life-threatening crimes committed, only 206 cases were opened (8.38%). The total number of sex crimes was 342, of which only 150 cases were opened, including 109 cases of rape. The number of cases that were investigated was only 41 (37.61%). Other types of sexual crimes included 233 cases, of which not even half (109, or 46.78%) were investigated.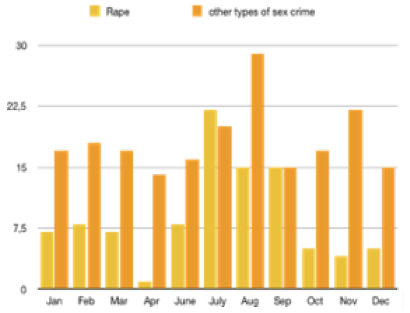 Official statistics for 2018-2020 show that more than 5000 cases of incitement to suicide were registered, but no details are available about how many were male or female, and out of the 2020 cases (1,954), only 8 were opened. Compared to the previous year, the rate of these crimes increased by 6%, to 116 cases. The Roadblocks to Justice Report made by the international NGO Equality Now, conducted in 2019, stated that in Georgia sexual crime cases rarely lead to investigation and justice for the victims. The following graph illustrates monthly rates of rape and other sex crimes in 2020.
The same Report stated that laws fail survivors of sexual violence in Eurasia because countries rarely publish relevant data, creating the illusion that there is very little sexual and gender-based violence. Because of incomplete and poor data, reality is distorted, and the true picture is not available. Another problem is that laws on femicide, gender-based violence and sexual violence are not properly defined in Georgian legislation.
Tamar Dekanosidze, Representative of Eurasia in Equality Now believes that if action had been taken by law enforcement agencies, and if timely support had come from governmental psychological and social services, it was very likely that the girls' life could have been saved. She noted that the perpetrator was arrested only after the child had killed herself, thus the evidence had already been in the hands of investigative bodies who could have detained the aggressor, but they did not act on it, although they stated this was a serious mistake.
Dekanosidze pointed out that Georgian legislation related to sexual violence does not comply with the Istanbul Convention and other human rights standards. Georgia has pledged to bring domestic legislation closer to these standards, but has not done so. According to the Istanbul Convention, if there is sexual penetration into a person's body without their consent, it is qualified as rape, however Georgian law offers a completely different reality. According to Article 137 on rape, it must be committed through violence, threat of violence or using the victim's helplessness.
"This leaves only a few cases in which sexual violence—even for a child--can be prosecuted," Dekanosidze stated. Many such acts of sexual violence and sexual violations are left unprosecuted. Most individuals are punished only when there are signs of violence on the victim's body and biological proof indicating sexual penetration. On 12 February, 2021, the Georgian Women's Movement announced a 100-day campaign 'For Nini' in order to demand enactment of relevant laws, educational programmes and reforms to the social care system to victims of sexual assault.
Georgian gender researcher Khatia Akhalaia also sees a long chain of problems both at the governmental and individual levels, beginning with a lack of sex education and awareness. She insists that young people are ill-informed for protecting themselves. "When teenagers have had sex education, they are better able avoid risky behaviour. It helps them avoid early sexual intercourse that can lead to disease, premature pregnancy and even mortality from trauma to the undeveloped uterus or other physical and psychological problems."